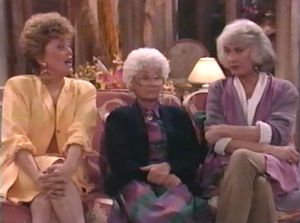 The Golden Girls is a sitcom which aired on NBC from 1985-1992. The show followed the lives of four older women who live in a Miami, Florida home. The show starred Bea Arthur, Betty White, Rue McClanahan, and Estelle Getty, and won multiple Emmy Awards.
When Bea Arthur left the series, the show was retooled as the spin-off The Golden Palace (1992-1993), with the three remaining girls running a hotel.
The Golden Girls cast appeared in The Earth Day Special, which included a segment featuring Kermit the Frog.
Muppet Mentions
In the Golden Girls episode "The Truth Will Come Out," Rose is putting makeup on her granddaughter, Charlene. When Sophia comes up to tell them that the spaghetti is getting cold, Rose tells her that they are still in the middle of a makeup lesson. Sophia replies that she hopes Charlene can help because Rose wears more rouge than Miss Piggy.
In the Golden Palace episode "Tad," Blanche's mentally disabled brother, Tad, visits the hotel. As Rose and Tad are folding napkins, Rose ask what he does for fun and he replies that he likes to watch cartoons. He mentions that his favorite cartoons include Scooby-Doo and Muppet Babies. Rose replies that she also loves Muppet Babies and watches that show with her grandkids.
References
Notes
Connections
See also
External links
Community content is available under
CC-BY-SA
unless otherwise noted.