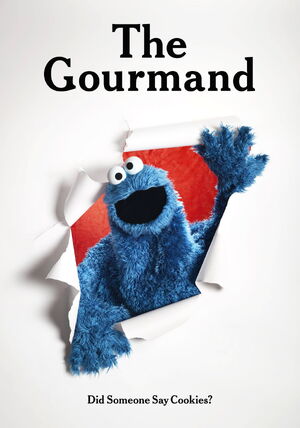 The Gourmand is a biannual British magazine about food and culture. The ninth issue, published in May 2017, featured a cover story on Cookie Monster. A one-page interview with the star, conducted by Kyle Hugall, is illustrated with photographs by Roe Etheridge.
The interview includes questions on Cookie Monster's dream dinner party, where he'd go if he could travel anywhere in history, and how he gets cookie crumbs out of his fur. Gourmand editor in chief David Lane said that the Sesame Street team is serious about how their characters are presented: "They talked to us as if Cookie Monster is a real person. We were given more scope for the pictures, but there was a strict no black and white rule -- the blue is a part of his personality."[1]
Gallery
Sources
↑ "The Gourmand #9, Magculture.com.