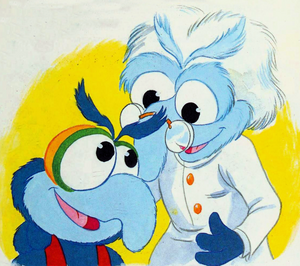 The Great Garbanzo is a character featured in the Muppet Babies storybook "What's a Gonzo?"
The Great Garbanzo invented the "onzometer," a tool that can do many thing (including tying shoelaces, shuffling playing cards, makes strawberry milkshakes, and answers questions). Baby Gonzo poses his question of "what am I" to the onzometer. Gonzo describes himself to the onzometer (which the help of his newfound friends) and gets the answer "you are Gonzo." The Great Garbanzo explains that "you might not know what you are, but you know who you are."
Community content is available under
CC-BY-SA
unless otherwise noted.