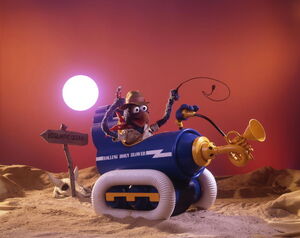 The Great Gonzo in WordRider is an educational book and video game set produced for the Commodore 64 and Apple II during the holiday season of 1984.[1] In the game, the Swedish Chef has invited Camilla the chicken to a castle for dinner. Gonzo realizes that his girlfriend will be the main course, and sets out to rescue her.
Dr. Bunsen Honeydew helps Gonzo by giving him words that he can use to build machines; Gonzo can use the machines to overcome various obstacles on his way to the castle. Gonzo travels through various locations on his quest, including Chickago, Yellowyolk National Park, Carlsbird Caverns and the Hen-a-layin' Mountains.
Simon & Schuster also published a companion game under the Muppet Institute of Technology banner, Kermit's Electronic StoryMaker.
Sources
↑ Asbury Park Press "Muppets enter computer age with software" by Steve Giegerich, November 8, 1984
Community content is available under
CC-BY-SA
unless otherwise noted.