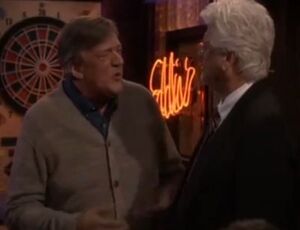 The Great Indoors is a sitcom which ran from 2016 to 2017, focusing on an outdoors magazine as it shifts to a web-only format.
Muppet Mentions
In the episode, "The Explorer's Club", Jack describes Mason (wearing an assortment of used clothing) as "the drug dealer on Sesame Street."
At the end of the same episode, Roland insults club president Mather by asking, "Could you tell us all how it felt when Waldorf left you to criticize the Muppets all by yourself?"
In the episode, "Mason Blows Up", Jacks tells his co-workers that he feels they are treating Mason like he is Woodward and Bernstein and Mason replies, "Those old dudes from the Muppets?"
In the episode "Ricky Leaks," Jack refers to the younger staffers as "the Muppet Babies."
Connections
Community content is available under
CC-BY-SA
unless otherwise noted.