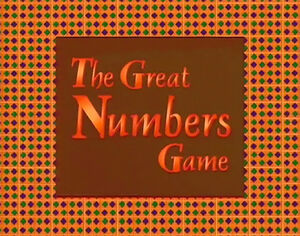 The Great Numbers Game is a 1998 Sesame Street direct-to-video compilation. Elmo, Telly Monster, Gabi and Alice have to find the numbers from 1 to 20 in order to win "The Great Numbers Game".
The video is a companion piece to The Alphabet Jungle Game.
Segments
Notes
On the 2004 Australian VHS and DVD releases, year of production is incorrectly listed as 2000.
Releases
International releases
Cast
Starring Jim Henson's Sesame Street Muppets:
Credits
Executive Producer: Nancy Kanter
Produced by Teri Weiss
Directed by Mary Perillo
Written by Annie Evans
Supervising Editor & Art Director: Mary Perillo
Talent Coordinator: Danette DeSena
Animators: Jane Aaron, Joey Ahlbum, Merril Aldigieri, Karen Aqua, Gene Barretta, David Bastian, Ken Brown & Lisa Crafts, Buzzco, Bruce Cayard, Loring Doyle, Fred Garbers, Jeff Hale, Imagination Films, Al Jarnow, Mustapha Khan, Caroline & Frank Mouris, Rose Rosely, Rudling Productions, John Schnall, Michael Sporn, Veronika Soul, Zog Studios
Composers & Lyricists: Kevin Bartlett, Alan Cagan, Chris Cerf, Anna Dibble, Sarah Durkee, Lowell Dunbar, Robert Dylan, Gary Eichsteadt, Kenneth Field, Don Hadley, Jim Henson, Paul Jacobs, Walt Kraemer, Stephen Lawrence, Bud Luckey, Robby Merkin, Frederick Reed, Alan Scott, Bill Seery, Elliot Sokolov
Music Coordinator: Danny Epstein
Sound Effects: Dick Maitland
Director, Sesame Street Research: Rosemarie Truglio