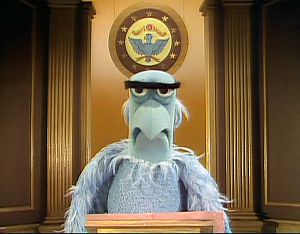 The Great Seal of The United States is a design that is used symbolically to represent the United States of America. According to official statements from the Federal Government, the seal appears in diverse forms "on coins, postage stamps, stationery, publications, flags, military uniforms, public monuments, public buildings, passports, and other items the U.S. government has issued, owns, or uses. The Seal can be affixed only by an officer of the Department of State, under the authority of its custodian, the Secretary of State."[1] Several variants of the Seal exist, but all show an an American bald eagle with its wings spread, supporting a shield, or escutcheon, and clutching an olive branch and a bundle of 13 arrows, "denoting the power of peace and war, which is exclusively vested in congress."[1]
References
The Great Seal has been parodied many times by the Muppets, mostly in sketches and gags involving Sam the Eagle:
When Sam delivers his editorials, he often stands at a lectern with a mock Great Seal hanging in the background. Sam and his mock Seal also appear in The Muppet Show Book.
The Muppet Show Fan Club Newsletter volume 1, number 1 is "censored" in several places with a light green stamp that reads "The Great Seal of Disapproval" and bears a dour image of Sam.
In The Comic Muppet Book, Sam envisions himself being photographed in a posture and dress that emulates The Great Seal.
Sources