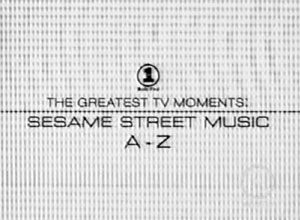 The Greatest TV Moments: Sesame Street Music A-Z was a television special which aired on November 21, 2000 on VH-1. Co-produced with Noggin, the special was created in association with VH-1's "Save the Music" campaign. Although it aired one year later, it was meant to coincide with Sesame Street's 30th anniversary, and helped to kick off Season 32 which premiered the following January. This special marks one of the earliest appearances of Kevin Clash being interviewed with Elmo.
Other celebrities and experts interviewed include Jewel, Jon Bon Jovi, Sammy Hagar, Sonia Manzano, Christopher Cerf, Dr. Frances Rauscher (Music Cognition Researcher), Joan Osborne, Rebecca Rankin (VH1 News), Richard Carpenter, Roshumba (VH1), Tom Ascheim (Noggin General Manager), Johnny Rzeznik (The Goo Goo Dolls), Darius Rucker (Hootie and the Blowfish), Danyel Smith (Music Journalist), Ricky Martin, Michael Stipe (R.E.M.), and Chris Barron (The Spin Doctors).
Notes
The onscreen graphic for Garth Brooks' "Together We Make Music" erroneously dates it as being from 2000, though it first appeared in Episode 3814 in 1999.
Behind the scenes footage of Episode 3926 is used during the special.