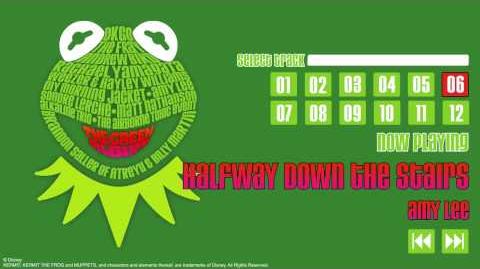 The Green Album is a Muppet CD released on August 23, 2011. The album features covers of classic Muppet songs by famous bands and singers. The title is a reference to the Beatles' record "The White Album".
A music video for OK Go's cover of "The Muppet Show Theme" was produced featuring OK Go and the Muppets. The video, directed by Kirk Thatcher, was released on August 23, 2011.
Track listing
The Muppet Show Theme - OK Go
Mah Na Mah Na - The Fray
Movin' Right Along - Alkaline Trio
Our World - My Morning Jacket
Mr. Bassman - Sondre Lerche
Wishing Song - The Airborne Toxic Event
Night Life - Brandon Saller and Billy Martin
I Hope That Somethin' Better Comes Along - Matt Nathanson
I'm Going to Go Back There Someday - Rachael Yamagata
Notes
The album was first announced at the D23 Expo in September 2009 under the title Muppets Revisited. The release was put on hold until 2011 when it was announced for release under the new title The Green Album.
The album debuted at number 8 on the Billboard 200 chart in its first week of release, with 30,000 units moved according to Nielsen SoundScan. It debuted at number 5 on Billboard's Top Digital Album chart. On iTunes, it was the fourth best selling album, the top selling rock album, the top selling rock song ("Rainbow Connection"), and top music video, "Muppet Show Theme Song".
Gallery
Sources