The Grinch is the recurring villain on The Wubbulous World of Dr. Seuss. Created by Theodor Geisel in the 1957 book "How the Grinch Stole Christmas", the Grinch has become an iconic Christmas curmudgeon, almost rivaling Ebenezer Scrooge. The tale was adapted as a long-running animated holiday special in 1966, inspiring sequels Halloween Night is Grinch Night and The Grinch Grinches the Cat in the Hat. The original book was expanded into a feature-length film in 2000.
On The Wubbulous World of Dr. Seuss, the Grinch does not limit his grinchiness to the holiday season. From his lair on Mt. Crumpit, and with the reluctant assistance of his dog Max, he schemes to ruin the fun of the citizens of Seussville and the rest of the Wubbulous World. He also displays a streak of greed as well as misanthropy, stealing the Zubble-Wump egg so as to have the bird's song to himself, in "The Song of the Zubble-Wump."
The Grinch's origin story was referenced in "Mrs. Zabarelli's Holiday Baton," where a pageant performer is seen reciting the text from the original book as a part of the Jingle Day festivities.
In his 2004 book Dr. Seuss: American Icon, children's literature scholar Philip Nel wrote that the Muppet Grinch, at least in his illustrated appearance, resembled "the love child of Grover and Oscar the Grouch."
Appearances
References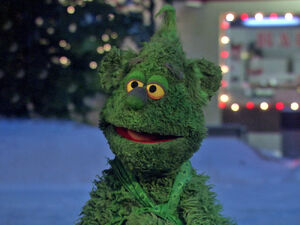 Community content is available under
CC-BY-SA
unless otherwise noted.