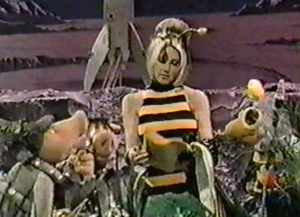 The Hardy Boys, Frank and Joe Hardy, are fictional teenage brothers, who appear in a series of mystery novels for teens. Created by Edward Stratemeyer, the books have had no continuous author, but rather are published under the pseudonym Franklin W. Dixon. The first in their series of adventures was published in 1927.
The books have sold than a million copies a year, have been translated into more than 25 languages, and have been adapted into multiple television shows, including several serials that aired as a part of The Mickey Mouse Club. Some of the TV versions have alternated or crossed over with the other Stratemeyer teenage detective character, Nancy Drew.
References
"The Hardy Pig Boys in 'The Mystery of the Zombie Queen of the Amazon Outer Space Jungle Bee-Woman Case' (based on a novel by Jane Austen)" is a sketch in Muppets Tonight episode 203, written by Andy Pig and Randy Pig. The sketch featured much breaking of the fourth wall, in which the narrator, the Hardy Pig Boys (played by Andy and Randy), and Heather Locklear all discuss the problems with the script.
Connections
External links
Community content is available under
CC-BY-SA
unless otherwise noted.