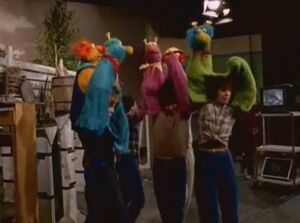 "The Honker-Duckie-Dinger Jamboree" is a Sesame Street song sung by Ernie. In a country setting, Ernie invites the viewer to join in their musical hoedown, punctuated by the sounds of his Rubber Duckie, some Honkers (including Mr. Honker), and a Dinger.
Episode 4028 focused on Ernie planning another Honker-Duckie-Dinger Jamboree. In a Play with Me Sesame segment, Grover played along to a showing of the clip. In "Elmo's World: Bells", Ernie performs a rendition of the song in a video e-mail.
In a Trash Gordon segment, Trash is cornered by a gang of noisy Honkers on "Planet Honk." He solves the problem by hosting a Honker-Duckie-Dinger Jamboree with a Dinger and his Rubber Duckie.
Notes
Releases
Audio
Video
Online
Publications
Sources