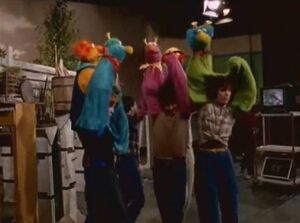 "The Honker-Duckie-Dinger Jamboree" is a Sesame Street song sung by Ernie with his Rubber Duckie. As he sings, some Honkers (including Mr. Honker) and one of the Dingers dance around, making their respective sounds. The song takes place on a farm.
Episode 4028 focused on Ernie planning another Honker-Duckie-Dinger Jamboree. In a Play with Me Sesame segment, Grover played along to a showing of the clip. In "Elmo's World: Bells", Ernie performs a rendition of the song in a video e-mail.
In a Trash Gordon segment, Trash is cornered by a gang of noisy Honkers on "Planet Honk." He solves the problem by hosting a Honker-Duckie-Dinger Jamboree with a Dinger and his Rubber Duckie.
Notes
Releases
Audio
Video
Online
Publications
Sources
Community content is available under
CC-BY-SA
unless otherwise noted.