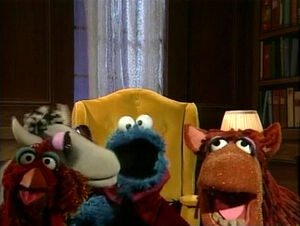 The Horse Whisperer is a 1998 movie directed by and starring Robert Redford, based on the 1995 novel of the same name by Nicholas Evans. Both follow a horse trainer, who is gifted with understanding horses, who is hired to help and injured girl and her horse after an accident.
References
The movie's title was spoofed on Sesame Street's "Monsterpiece Theatre". In that version of The Horse Whisperer, First, the wrong animals keep whispering. Then the horse whispers the wrong sounds, before he finally whispers "Neigh, neigh."
Connections
External links
Community content is available under
CC-BY-SA
unless otherwise noted.