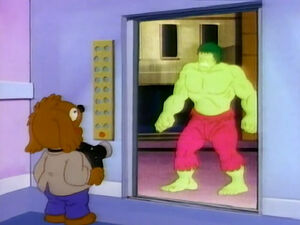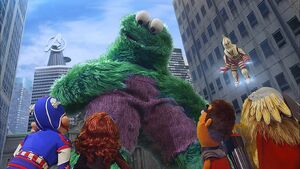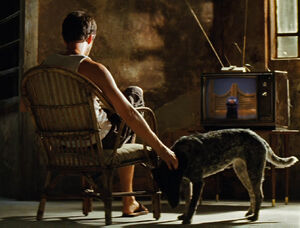 The Incredible Hulk is a Marvel Comics superhero and comic book title. Created by Stan Lee and Jack Kirby in 1962, the comic focused on Dr. Bruce Banner who becomes a musclebound behemoth from a gamma radiation accident. The transformation was originally triggered by sundown, but later was directly tied to Banner's emotions, especially anger.
The character's popularity led to several TV series, including a successful live action TV series in 1978, starring Bill Bixby as Banner (renamed David) and Lou Ferrigno as the Hulk. The franchise continued in theatrical movies with Hulk (2003), The Incredible Hulk (2008), and The Avengers (2012).
References
A kid in Sesame Street Episode 1177 wears an Incredible Hulk t-shirt.
In a web video for Entertainment Weekly, Kermit tells the publishers that they wouldn't like Miss Piggy when she's angry. Walter chuckles and points out the Hulk reference.[1]
In Tales of a Sixth-Grade Muppet: Clash of the Class Clowns, Danvers reveals to the reader, "In case you haven't heard, I have to share bunk beds with my sister, which is only slightly less embarrassing than having your mom walk in on you when you're covered in green Magic Marker and reciting lines out loud from The Incredible Hulk (don't ask me how I know this)."
At the London press conference for The Muppets, Kermit is asked if he minds getting typecast playing himself in movies all the time. He reveals that he has actually been looked over for some roles in the past, including the Incredible Hulk. "Right color, wrong body type."
Uncle Deadly Tweeted, "Summer convention season is upon us. Need a last minute cosplay? With enough green fabric you can be @KermitTheFrog or The Incredible Hulk." on July 9, 2017. [2]
Muppet Mentions
"Captive Night", a 1979 episode of The Incredible Hulk features background appearances by Sesame Street plush toys. The episode is set in a department store, and during a lengthy sequence, the Hulk roams around the toy department, curiously gazing at the strange faces on the various toys and dolls. Several shots feature a stuffed Herry Monster atop a mushroom, the longest being a tracking shot. A Mr. Snuffleupagus is also briefly glimpsed near a large stuffed dog.
In The Incredible Hulk issue #474 (1999), a journey into Bruce Banner's mind includes a symbol of anger from his childhood: "Edgar the Grump", who lives in a dumpster on "Sassafras Street". The character is a parody of Oscar the Grouch from Sesame Street.
The 2008 feature film The Incredible Hulk begins with Bruce Banner living in Brazil while hiding from the military. To learn the local language, he reads a translation dictionary and watches Sesame Street. Footage of Grover performing "Over, Under, Around and Through" is used, and Joe Raposo receives acknowledgement for the song in the film's credits.
Connections
Sources
↑ "Kermit, Walter, and Miss Piggy play hardball" by Jeff Labrecque, Mar 20 2012, Entertainment Weekly
Community content is available under
CC-BY-SA
unless otherwise noted.