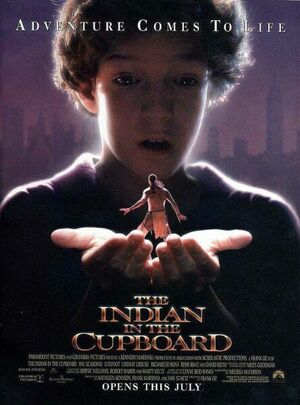 | | |
| --- | --- |
| Released | July 14, 1995 |
| Duration | 98 minutes |
| Director | Frank Oz |
| Written by | Melissa Mathison (screenplay), Lynne Reid Banks (novel) |
| Music | Randy Edelman |
| Studio | Columbia Pictures |
| Rated | PG |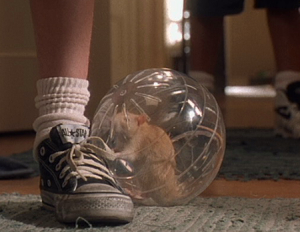 The Indian in the Cupboard is a theatrical film, geared toward family audiences, based on a 1980 series of children's books of the same name. The story focuses on a young boy, Omri, who receives a magic cupboard through which he can bring his toy figures to life. He does so, beginning with an Indian (Native American) named Little Bear, but soon finds that his "toys" have lives of their own and that there's a great responsibility involved.
George Lucas' Industrial Light and Magic supplied most of the visual effects on the film, notably a sequence in which other action figures come to life, among them Darth Vader having a lightsaber battle with a dinosaur (a Cardassian and a Ferengi from Star Trek are also featured). Though uncredited, Jim Henson's Creature Shop worked on a couple of sequences involving a pet rat (as acknowledged on the official Henson website and in the company's promotional copy in various film press kits). Julianne Buescher operated the rat.
In audio commentary on the film's DVD, and in interviews, director Frank Oz expressed initial reluctance to helm a family film, hoping to gravitate towards drama:
"

I'm not a children's director... I wouldn't know how to direct a children's movie. I didn't know what children wanted when I was a child, and I don't know at 50 years old. I just try to make good movies.[1]

"
Cast
Hal Scardino as Omri
Litefoot as Little Bear
Lindsay Crouse as Jane
Richard Jenkins as Victor
Rishi Bhat as Patrick
Steve Coogan as Tommy Watkins
David Keith as Boo-hoo Boone
Sakina Jaffrey as Lucy
Vincent Kartheiser as Gillon
Nestor Serrano as Teacher
Sources
↑ Ryan, James. "Wizardry of Oz Creates Little 'Indian'." The San Francisco Chronicle. July 17, 1995