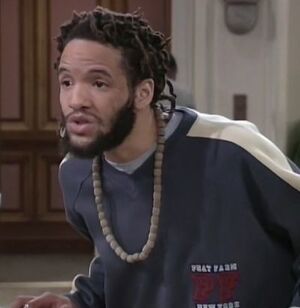 The Jamie Foxx Show is a sitcom starring and co-created by Jamie Foxx, running on the WB from 1996 to 2001. It centered on Jamie King, aspiring entertainer who moves to Hollywood but finds himself working at his aunt and uncle's hotel.
Muppet Mentions
In the season one episode "Break Yourself, Fool," Jamie and Braxton become robbery hostages at a bank. One of the robbers refers to the two as Bert and Ernie.
In the season two episode "Dog Pounded," Jamie's aunt Helen King refers to Jamie and Braxton as Muppet Babies when she suspects the two are hiding a dog in the hotel with a no pet policy.
Connections
Community content is available under
CC-BY-SA
unless otherwise noted.