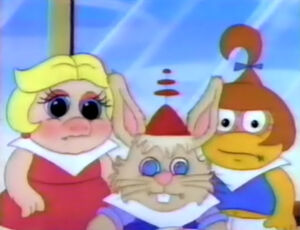 The Jetsons was a prime-time animated sitcom from Hanna-Barbera which originally aired on ABC from 1962-1963. A new batch of episodes were created for syndication between 1985 and 1987. Like their stone age counterpart The Flintstones, the series envisioned modern life and culture in a world of a futuristic utopia of robots and machines, versus the prehistoric world of dinosaurs and bird devices.
References
When the babies time travel to the future in the 2018 Muppet Babies episode "Piggy's Time Machine", they find themselves in a neighborhood with houses built on stilts high over the ground with flying cars that use the same sound effect from The Jetsons.
Connections
External links
Community content is available under
CC-BY-SA
unless otherwise noted.