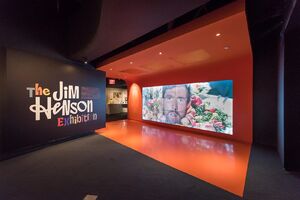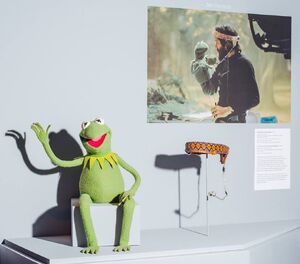 The Jim Henson Exhibition is an exhibition permanently housed at the Museum of the Moving Image in Astoria, Queens, about the life and work of Jim Henson. The exhibit opened in July 2017.
The exhibition was announced in May 2013 with a projected opening of Winter 2014 / 2015. After several delays, the Museum launched a Kickstarter campaign in April 2017 to help fund the project.
The exhibition is divided into several sections focusing on different aspects of Henson's career, from his early, experimental works to the inception of Sesame Street and The Muppet Show. The exhibition features puppets from various productions, as well as several archival items from the Jim Henson Legacy, such as scripts, props, design sketches and models.
A traveling version of the exhibit, The Jim Henson Exhibition: Imagination Unlimited, launched in May 2017.
Exhibit features
Forty seven puppets from productions such as The Muppet Show, Sesame Street, Fraggle Rock and The Dark Crystal
Archival video of Wilkins and Wontkins commercials, Sesame Street characters and The Muppet Show Pitch Reel
Archival documents and concept art from various productions, including digital viewers
A customizable Fat Blue Anything Muppet for visitors to add facial features to
An interactive puppet station, where visitors can lip-sync to snippets of classic Sam and Friends scenes
A projection of all 120 episodes of The Muppet Show playing simultaneously
Gallery
External links