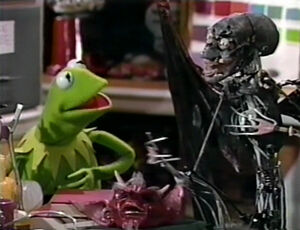 The Jim Henson Hour pitch reel is a 12½-minute video hosted by Jim Henson from a faux Muppet Workshop[1] to explain and sell his concept for The Jim Henson Hour. The pitch tape was written by Jerry Juhl and Bill Prady.[2] The tape was shot on September 25, 1987.[2]
Surrounded by all sorts of Muppet and Creature Shop creatures from previous productions, Henson explains his vision for The Jim Henson Hour. The original concept was for the show to have a rotating schedule of four different kinds of episodes; one for each week of the month. The first week would feature a one-hour episode of Jim Henson's The Storyteller. The second week was for Lead-Free TV; Henson describes Lead-Free TV (using clips from Inner Tube as a visual) as "the Muppet Show from the future," full of special effects, rock music, fast-paced comedy and human guest stars. The third week, a "Picture Book Special" would be featured, in the vein of Emmet Otter's Jug-Band Christmas, The Christmas Toy and The Tale of the Bunny Picnic. And the fourth week, anything could happen; a detective story with Kermit and the gang, a story about an enchanted bowling ball, an outer space adventure or a look behind the scenes. As Henson describes these four genres of episodes, a montage of clips from various Henson productions are shown to provide examples of each (set to the Talking Heads' "Wild Wild Life").
Cast
Muppets: Kermit the Frog, Miss Piggy, Gonzo, Animal, Philo, Right Door Knocker, Jake, Henry, Digit, Crasher, Duke, Glitch, Chet and Babs, Maya, Inner Tube Drummer
Background Muppets: Droop, Blustering Bellowpane Monster, a Doozer, The Griffin, Frackles, The Worm, a rat, a devil, a Primitive
Performers
Sources
↑ Jim Henson: The Biography by Brain Jay Jones (page 413)
↑ 2.0 2.1 Jim Henson's Red Book -- 8/22/1987 -- Meet with Brandon Tartikoff/ Propose The Jim Henson Hour. All summer - filming "The Bear" Jean Jacques Amiel in Alps Creature Shop project
Community content is available under
CC-BY-SA
unless otherwise noted.