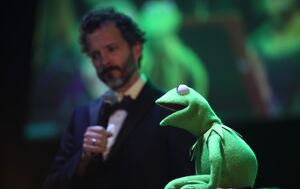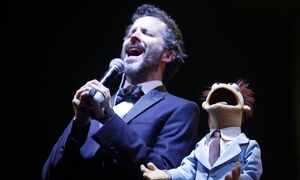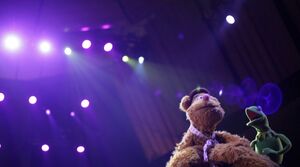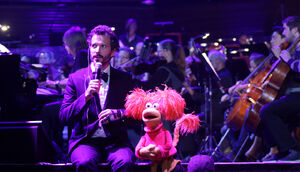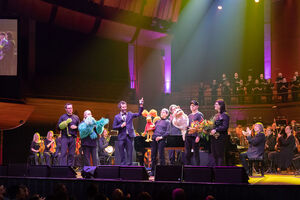 The Jim Henson Retrospectacle Live in Concert is a live concert that closed the three-week Jim Henson Retrospectacle in Wellington, New Zealand. The concert took place on April 27 and 28, 2018 at the Michael Fowler Centre (with two matinee and evening performances).
The concert was hosted by Bret McKenzie, backed by the New Zealand Symphony Orchestra. The show featured songs from various Muppet productions, both well-known and "a couple of rare deep cuts for the hardcore Muppet fans moshing at the front." The concert also featured Muppet characters from The Muppet Show, Sesame Street and Fraggle Rock. In between songs, archival footage (including old, Jim Henson-produced commercials and a scene from The Dark Crystal) was shown.
McKenzie co-wrote the concert with Craig Shemin. Chris Caswell served as music director.
Songs list
"Rainbow Connection" sung by Kermit and Bret McKenzie
"Sesame Street Theme" sung by Grover and Bret McKenzie
"Sing After Me" sung by Big Bird, Rosita and Bret McKenzie
"Rubber Duckie" sung by Ernie and Bert
"The Song of the Count" sung by Count von Count
"The People in Your Neighborhood" sung by Bret McKenzie, Writer Muppet, Director Muppet and Grover
"Sing" sung by Rosita, Bret McKenzie, Big Bird, Bert, Ernie, Count von Count
"Follow Me" sung by Red Fraggle and Bret McKenzie
"Fraggle Rock Theme" sung by Red Fraggle and Bret McKenzie
The Dark Crystal suite performed by the orchestra
"Muppet Show Theme" sung by Kermit, Bret McKenzie and choir
"Movin' Right Along" sung by Kermit and Fozzie
"Man or Muppet" sung by Bret McKenzie, Muppet Bret, Walter
"Bein' Green" sung by Kermit
"Mah Na Mah Na" sung by Bret McKenzie and the Snowths
"Never Before, Never Again" sung by Miss Piggy
"Life's a Happy Song" sung by Bret McKenzie, Kermit, Walter, Miss Piggy and Frankie the Penguin
"Rainbow Connection" sung by Bret McKenzie, Kermit, Walter, Miss Piggy, Fozzie, Sam the Eagle, Lew Zealand
"Tūtira mai ngā iwi" sung by Bret McKenzie, Kermit, Big Bird, Rosita, Red Fraggle
Cast
See also
Sources
External links