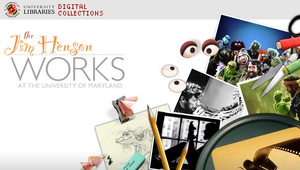 In January 2005, The Jane Henson Foundation and The Jim Henson Legacy generously donated videos and funding to support the creation of what is now known as The Jim Henson Works at the University of Maryland. This collection makes available to UM's community of students, scholars, and visitors over 70 digital videos spanning 35 years of Henson's groundbreaking work in television and film. These full-length videos are available for viewing at public computer stations in the Michelle Smith Performing Arts Library, McKeldin Library, and Hornbake Library.
The University provides a wide range of research opportunities into Henson's work and puppetry in the performing arts. It also hosts exhibits and websites, develops interactive interpretive content, and takes part in celebrations of Jim Henson's life.
The Michelle Smith Performing Arts Library also launched Jim Henson: Performing Artist, on September 22, 2006 featuring Muppets and many behind-the-scenes photographs.
Exhibit
Index
Celebrations, Compilations & Documentaries
16 minutes
68 minutes
49 minutes
53 minutes
45 minutes
Muppet Stuff - The Annotated Works of Jim Henson: Creating Characters
41 minutes
Muppet Stuff - The Annotated Works of Jim Henson: Creating Worlds and Telling Tales
41 minutes
47 minutes
48 minutes
58 minutes
51 minutes
48 minutes
48 minutes
58 minutes
Feature & Experimental Films
54 minutes
93 minutes
97 minutes
57 minutes
102 minutes
96 minutes
50 minutes
103 minutes
9 minutes
Youth 68: Everything's Changing -- Or Maybe It Isn't
53 minutes
Fraggle Rock
49 minutes
25 minutes
25 minutes
25 minutes
26 minutes
25 minutes
25 minutes
25 minutes
The Jim Henson Shows
52 minutes
52 minutes
49 minutes
49 minutes
49 minutes
25 minutes
25 minutes
24 minutes
27 minutes
50 minutes
48 minutes
50 minutes
Muppet Stuff - The Annotated Works of Jim Henson: Creating Characters
41 minutes
Muppet Stuff - The Annotated Works of Jim Henson: Creating Worlds and Telling Tales
41 minutes
50 minutes
26 minutes
58 minutes
58 minutes
The World of Puppetry with Henk Boerwinkel
55 minutes
The World of Puppetry with Philippe Genty
59 minutes
57 minutes
The World of Puppetry with Sergei Obraztsov
57 minutes
The Muppet Show
16 minutes
50 minutes
48 minutes
27 minutes
27 minutes
27 minutes
25 minutes
27 minutes
26 minutes
27 minutes
26 minutes
26 minutes
27 minutes
25 minutes
27 minutes
27 minutes
26 minutes
27 minutes
51 minutes
Sesame Street
59 minutes
59 minutes
48 minutes
48 minutes
59 minutes