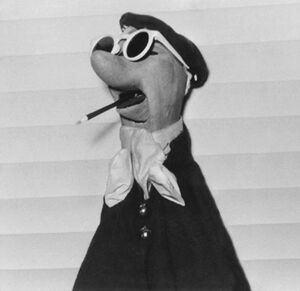 The Junior Morning Show was a short-lived local children's show, featuring youngsters, in Washington, D.C. Jim Henson got his start in television on this show in 1954 before he began work on Sam and Friends. The show premiered on June 19, 1954.[1]
According to Jim Henson's Designs and Doodles: "One afternoon in his senior year of high school, two production assistants from local station WTOP visited [Henson's] high school puppetry club. The station manager had sent them to find puppeteers for a Saturday morning children's program, called The Junior Morning Show. Jim jumped at the opportunity... [The show] only aired for three weeks, but out of the experience Jim got a favorable mention in a local newspaper and a chance to work in front of a television camera."[2]
Pierre the French Rat, a character Henson used for a comic in his high school comic strip, appeared in puppet form on this show.
The show was cancelled due to discovery "that the revision of the child labor law permitting children to appear on stage here applies to [theater] and not television. Three of the program's participants were under fourteen and consequently could not get work permits."[3] Jim Henson was paid $5 per episode.[4]
Sources
Community content is available under
CC-BY-SA
unless otherwise noted.