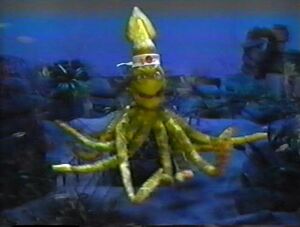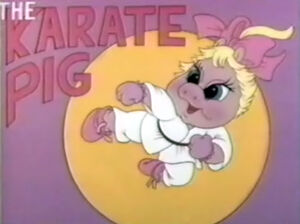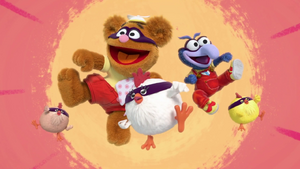 The Karate Kid was a 1984 film following in the vein of the Rocky movies, about an underdog high school student who trains under his apartment's handyman, Mr. Miyagi, to win the heart of a girl and ward off the attacks of her ex-boyfriend. The film spawned a franchise including multiple sequels, and an Academy Award nomination for Pat Morita as Mr. Miyagi.
References
One edition of "Cookie's Crumby Pictures" parodies the film, where Mr. MiCookie trains Cookie Monster in "Biscotti-Karate" to become "The Biscotti Kid." The sketch features another one of his students, The Karate Squid, and parodies Mr. Miyagi's "Wax on, wax off" lesson as "Snacks on, snacks off." It even parodies the continuance of the franchise when Mr. MiCookie declares that Cookie Monster will be known as the Biscotti Kid forever, "or until someone else plays you in the sequel or the remake." The segment also features a spoof of "Glory of Love" from Karate Kid Part II.
In a 2017 Vanity Fair video, Grover utters "Wax on, wax off" while making circles with his arms.
Connections
External links
Community content is available under
CC-BY-SA
unless otherwise noted.