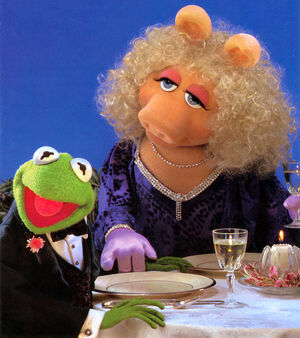 The Kermit and Piggy Story was released by Playhouse Video in 1985, as part of a series of compilations featuring songs and sketches from The Muppet Show. In this one hour special, Kermit the Frog and Miss Piggy share a romantic dinner for two while they remember highlights of their relationship on The Muppet Show.
The video is available for viewing at The Paley Center for Media.
Picture
Segment
Description

FRAME
Kermit has invited Piggy to a nice evening out, where she slurps down her champagne. Although she has already had afternoon tea, she decides to have some light appetizers (rather than skip dinner entirely). Kermit makes a toast to "old times." Piggy questions how old he means and recalls when they first worked together, singing "Temptation." Piggy doesn't want to relive that memory, claiming it was before she had personal appearance staff (or singing lessons, as Kermit points out).

Song
"Temptation"
(Episode 101: Juliet Prowse)
The opening dialogue section is cut.

FRAME
Kermit points out that Piggy looks much better now and recalls around the same time, he learned of another one of her talents - karate.

Backstage
Miss Piggy meets Robot Kermit
(Episode 104: Ruth Buzzi)

FRAME
As the pair finishes up some horderves, Kermit tells Piggy that since then, her star has risen and cites an encounter with Raquel Welch.

Episode fragments

FRAME
Piggy tells Kermit that he's done plenty of material on the show that was wonderful...or, wonderfully strange.

Song
"Coconut"
(Episode 410: Kenny Rogers)

FRAME
Kermit is reminded of a great musical number Piggy once did - "Cuanto Le Gusta." "Oh, yes, yes, the French number," Piggy recalls.

Song
"Cuanto Le Gusta"
(Episode 210: George Burns)

FRAME
Kermit and Piggy have been served dinner - Kermit a slice of avocado and Piggy a large plate of spaghetti. She tells Kermit she can get a doggy bag if she doesn't finish it. This inspires Kermit to ask how Foo-Foo is. Piggy tells him she misses her daddy, though Kermit bristles at the notion. In between clips, Piggy offers some commentary.




Episode fragments
Backstage:

FRAME
Piggy wonders why Foo-Foo was never onstage, despite how talented she claims he was. Kermit points out they did have Foo-Foo once, which he thinks was enough.

Sketch
Foo Foo the Wonder Dog
(Episode 520: Wally Boag)

FRAME
Kermit claims he doesn't really like dog acts anyhow. Piggy brings up Lydia, who she considers a "dog."

Song
"Lydia, the Tattooed Lady"
(Episode 102: Connie Stevens)

FRAME
Piggy, now served a tray of oysters, calls Lydia a hussie. Kermit reminds her that she has done plenty of musical numbers with other males, such as Link Hogthrob.

Song
"True Love"
(Episode 324: Cheryl Ladd)

FRAME
Piggy sucks down an oyster and offers some to Kermit, who declines. He changes the subject and brings up Tony Randall's visit to the show, which Piggy does not wish to comment upon. Kermit comments in between each section.

Episode fragments
Backstage scenes:

Tony Randall turns Miss Piggy into a stone statue
Tony Randall tries to sneak the stone piggy statue out of the theatre
Floyd cracks stone jokes

FRAME
Piggy didn't like watching those scenes at all, nearly losing her appetite (now having a full roasted chicken with bread). Kermit tries to cheer her up by reminding her that the situation turned out fine. Piggy reminds Kermit how she feels about him.

Song
"Mad About the Frog"
(Episode 318: Leslie Uggams)

FRAME
Kermit finishes his light salad, as Piggy is half-way through her chicken. He points out she's not always as affectionate as that number would suggest and brings up an appearance with Cheryl Ladd.

Song
"I Enjoy Being a Girl" with Cheryl Ladd
(Episode 324: Cheryl Ladd)

FRAME
Kermit tells Piggy that even in the beginning of their complicated relationship, he's found her "overly assertive."

Song
"I Won't Dance"
(Episode 210: George Burns)

FRAME
As the clip illustrates, Kermit finds himself often treated poorly by Piggy. Polishing off the final bits of chicken, she asserts she is always faithful to her frog, though they both know she has a weak spot for Christopher Reeve.

Backstage
Dressing Room: Miss Piggy's pictures of Christopher Reeve
(Episode 418: Christopher Reeve)

FRAME
Kermit offers to order dessert, so Piggy asks for a menu (as the thought of no dessert changes her mind about declining). She then points out that sometimes, Kermit deserves her wrath, such as during her calypso number.

Song
"Pig Calypso"
(Episode 221: Bob Hope)

FRAME
Kermit and Piggy, now with dessert, disagree over Kermit's comeuppance. He claims that type of situation happens all the time, such as when she allowed the pigs to take over the show. In between clips, Piggy claims it was just a joke, though Kermit feels very much the opposite.

Episode fragments
The pigs take over the show:

The pigs capture Kermit
Miss Piggy talks to Kermit in the boiler room

FRAME
Kermit again believes that was definitive evidence of how he's treated, but Piggy believes Kermit equally treats her badly too. Piggy comments in between clips.

Episode fragments
Backstage:

FRAME
Kermit points out that just a few weeks after that tiff, Piggy staged a skit to marry him. Piggy digs into a chocolate sundae.

Sketch
The Wedding Sketch
(Episode 310: Marisa Berenson)

FRAME
Although they've had some rough times, the two agree they've had good times too and decide to focus on those instead.

Song
"Ukulele Lady"
(Episode 215: Lou Rawls)

FRAME
Piggy thanks Kermit for the "little snack" and heads out for a pizza. Kermit, scanning the bill, stays behind and bemoans paying the tab by washing dishes.
Notes
Kermit states that the Wedding Sketch happened a few weeks after he fired Miss Piggy in episode 502. The sketch was actually from two seasons before this in episode 310.
Releases
Community content is available under
CC-BY-SA
unless otherwise noted.