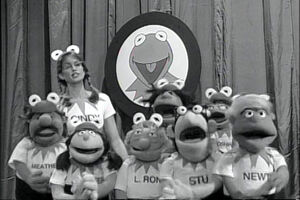 The Kermit the Frog Club is an organization established around the celebrity of Kermit the Frog as seen in Muppets Tonight episode 105.
Modeled after The Mickey Mouse Club, this fictional Muppet TV show features Cindy Crawford as one of the original Frogketeers. Despite Clifford's insistence that it was a very popular afternoon show, no one in the audience seems to remember it.
Club members wear t-shirts with spiky collars and hats with frog eyes. Aside from Cindy Crawford, they include Jennifer, Newt, Robbie, M! D Bolo, L. Ron, Toshiro, and Stu.
During roll call, Stu calls out his name five times, and when he is told off by Kermit, he explains that he can't help it; he has a short-term memory. Kermit announces that Friday is "Get-To-Know-Your-Frogketeer-Day", and calls the newest Frogketeer, Cinderella Crawfordopolis, forward. He asks what her hobbies are: she likes to dress up in really pretty clothes and walk up and down her driveway. And what she wants to do when she grows up: the same thing, only get paid millions of dollars for it. Kermit asks her what she would like to do if this doesn't work out, and Cindy embarks on an ambitious career plan (an account of her own career). The detailed account astonishes the other Frogketeers and Kermit replies, "What an imagination!".
This sketch was excerpted in "The Best of Muppets Tonight".
See also
Community content is available under
CC-BY-SA
unless otherwise noted.