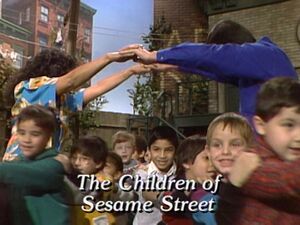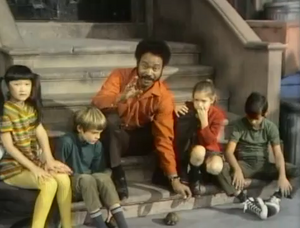 "The Kids" is a generic term applied to any group of children performing on Sesame Street. Kids have always been a part of the Street — the first scene in the premiere episode includes a group of kids playing basketball.
Sesame Street albums sometimes credit "The Kids" for songs with a youth chorus, including "Somebody Come and Play," "Sing," and the "Sesame Street Theme."
In addition to appearing in street scenes, some of the best-remembered appearances on the show are in stand-alone segments with the Sesame Street Muppets (see Muppet & Kid Moments).
The cast included several kids as the children of the residents of Sesame Street who grew up on the show; including Sheldon and Buffy's son Cody, Gordon and Susan's son Miles, Luis and Maria's daughter Gabi, Jamal and Angela's daughter Kayla, and Gina's son Marco.
Several of the child actors who appeared as kids on the street went on to have well-known acting careers, including such stars as Maggie Gyllenhaal, Lindsay Lohan, Keshia Knight Pulliam, Ashley Tisdale, and Tyler James Williams. Others were children of celebrities or cast members including Tim Robbins and Susan Sarandon's son Miles, Jim Henson's children appearing in inserts he produced, and the children of Roscoe Orman (Miles Orman), Sonia Manzano (Gabriela Rose Reagan), and Buffy Sainte-Marie (Dakota Starblanket Wolfchild) playing their on-show children.
According to Kevin Clash, Whoopi Goldberg was once a babysitter for a few of the kids: "Before she was well-known, she was a baby-sitter for some of the kids we had on the show. Then she became famous and whenever we ask her to do something for us, she's always there. She's a part of Sesame Street."[1]
Cast members
Everyday kids
Additional kids
Movies and Specials
See also
Sources
Notes