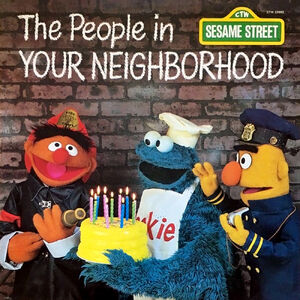 "The King's Birthday Party" is a Sesame Street story narrated by Bob, and acted out by The Muppets. The story appears on the 1980 album The People in Your Neighborhood.
Ernie plays the king whose birthday is tomorrow, and he wonders if he'll get a birthday cake. The prime minister (Bert) tells the members of the royal court about his intentions to go to the neighborhood bakery store to order a special birthday cake for the king.
Meanwhile, a friendly little shoemaker (Grover) decides to close his shop for the day and goes fishing. This proves to be a setback for the royal neighborhood truck driver (Biff), who arrives at the closed shop with a gaping hole in his shoe. If the truck driver's shoe isn't fixed, he can't walk over to the truck depot to make his deliveries.
At that moment, the prime minister instructs the royal neighborhood baker (Cookie Monster) to bake a special cake for the king's birthday. The baker goes to the grocery store to get the ingredients, but the grocer (Prairie Dawn) informs him that, because the truck driver has not made his delivery, they cannot provide him the items he needs. The woeful baker sobs "What me going do?"
As it turns out, the fish weren't biting that day, so the shoemaker returns to his shop and tends to the truck driver's broken shoe. From there, the truck driver runs to the truck depot and jumps into his truck to make his first delivery to the grocery store, relieving the grocer and baker's worries. The baker buys the ingredients and finishes making the cake just as the prime minister comes back to pick it up. The next day, the king compliments his birthday party and the terrific cake.
Community content is available under
CC-BY-SA
unless otherwise noted.