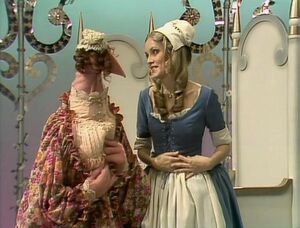 "The King's Breakfast" is a poem by A. A. Milne that was first published in When We Were Very Young, a collection of poetry that also included "Halfway Down the Stairs" and the very first appearance of Winnie the Pooh.
The poem is recited by Twiggy in episode 121 of The Muppet Show, with assistance from King Rupert the Second (as The King), the Queen, and an unnamed cow (as The Alderney).
The sketch marks the debut of The Queen and the first appearance of a cow on The Muppet Show.
Although the cow, which is voiced by Richard Hunt, bears a physical and vocal resemblance to Gladys the Cow from Sesame Street, it is unlikely that she is supposed to be the same character, especially considering that all other Sesame Street cameos (in episodes 102, 318, and 518) are specifically noted as such.
Video releases
Community content is available under
CC-BY-SA
unless otherwise noted.