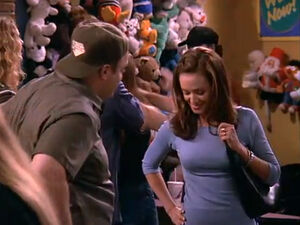 The King of Queens is a sitcom that aired on CBS from 1998 to 2007, about a working class couple living in Queens, New York.
Mentions
In the second season episode "Flower Power," Doug takes Carrie to Coney Island to the carnival fair booths. One of the game booths has an Ernie doll.
In the third season episode, "Twisted Sitters," Doug and Carrie are watching Deacon and Kelly's kids while they are out of town. When Doug came back from work, Carrie told him that she and the kids were watching Elmopalooza three times in a row and fielded some tough questions about Bert and Ernie's relationship.
In the sixth season episode "Secret Garden," when Carrie sees Spence in his bathing get-up (a shower cap, blue robe and large scrub brush), she claims "[he] look[s] like Ernie, from Sesame Street."
In a later season eight episode, "Four Play," Carrie and Arthur share the following exchange:
Arthur: I've dealt with this type of character when I worked as a production assistant on a little show called Sesame Street.
Carrie: You worked on Sesame Street?
Arthur: Sure, from March of '76 to mid-March of '76. Anyway, I can't name names, but I had a similar situation with a large bird with an even bigger ego.
Carrie: Big Bird?
Arthur: You said it, I didn't.
Connections
Community content is available under
CC-BY-SA
unless otherwise noted.