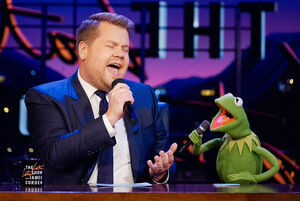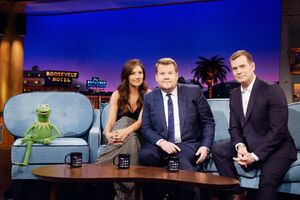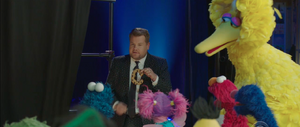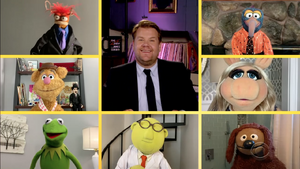 The Late Late Show with James Corden is a late night talk show hosted by James Corden that first premiered on CBS in 2015. The popularity of the show's various recurring segments led to the creation of the spin-off series Carpool Karaoke and Drop the Mic.
Appearances
November 8, 2019: The Sesame Street Muppets (Big Bird, Grover, Cookie Monster, Abby Cadabby, Count von Count, Oscar the Grouch, Elmo, and Bert) appeared in a special, pre-taped intro performing a new version of the "Sesame Street Theme" as they roam the CBS studios, including backstage at The Price is Right and on the set of The Bold and the Beautiful. Bill Barretta served as one of the puppeteers for this appearance.[2] (YouTube)
June 26, 2020: Statler and Waldorf heckle Corden's monologue via video chat. The rest of the Muppet gang (Kermit, Fozzie Bear, Dr. Teeth, Animal, Floyd Pepper, Janice, Zoot, Lips, the Swedish Chef, Pepe the King Prawn, Walter, Miss Piggy, Scooter, Rizzo the Rat, Gonzo, Rowlf the Dog, Beaker, Dr. Bunsen Honeydew, Sam the Eagle, and Chip) then appear to perform "With a Little Help from My Friends" with Corden and the Late Late Show band.
Mentions
September 10, 2015 - In a segment where James Corden and Stephen Colbert are recording failed network promos, James Corden considers Colbert and Corden to be a bit like Kermit and Miss Piggy. (YouTube)
November 20, 2019 - While James Corden and Josh Gad are trying to guess who is under the mask in a Masked Singer segment with Adam Lambert, Gad says that it could be the Stranger Things kids all stacked up on each other. Gad mentions that it could be like the Muppets. (YouTube)
Sources
See Also