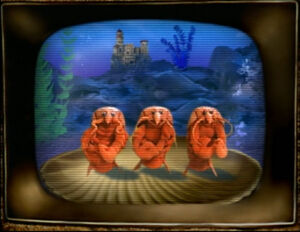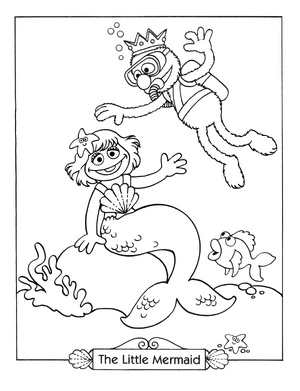 The Little Mermaid is a fairy tale by Hans Christian Andersen first published in 1837 about a young mermaid willing to sacrifice her life in the sea and her identity as a mermaid to gain a human soul and the love of a human prince. The most famous adaptation is The Walt Disney Company's 1989 animated film, which has since been franchised into a number of media.
The Disney animated movie was also the inspiration for the unaired pilot Little Mermaid's Island, which featured puppets built by The Muppet Workshop, created during Jim Henson's brief collaboration with Disney in 1990.
Muppet Mentions
In Disney's 1989 adaptation, King Triton makes a grand entrance at the beginning of a concert led by Sebastian. The audience is filled with Triton's royal subjects including Mickey Mouse, Donald Duck, Goofy, and Kermit the Frog.
References
Sesam, luk dig op features the famed bronze statue of The Little Mermaid in Copenhagen during its opening credits.
A betting form posted on the door of Pepe's stateroom aboard Disney Cruise Line's ship, the Disney Fantasy, lists Sebastian as one of the competitors in Pepe's Crab Races.
Connections
External links