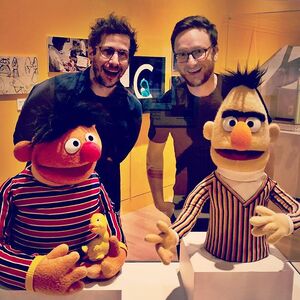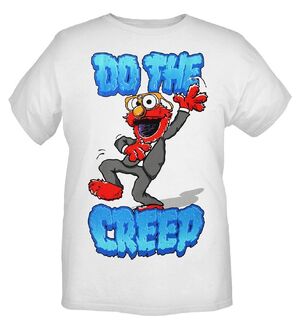 The Lonely Island is an American comedy troupe composed of Akiva Schaffer, Jorma Taccone, and Andy Samberg, best known for its comic music.
The group began creating live comedy skits in junior high school and continued to do so, expanding its repertoire to comedic shorts, music parody (both songs and videos), and one full-length television pilot, before coming to the attention of Lorne Michaels of Saturday Night Live. Once on the show, they wrote "Lazy Sunday," a music parody video much like the group's previous work. It became an instant internet success, and led to the creation of similar digital shorts that also aired on Saturday Night Live. The Emmy-winning "Dick in a Box", "Jizz in My Pants", "Like a Boss", "I Just Had Sex", "The Creep", and the Grammy-nominated "I'm on a Boat" have subsequently had huge successes.
References
A T-shirt featuring Elmo parodies "The Creep."
Muppet Mentions
In the music video for "The Creep," an Elmo balloon can be seen in the window of a store. It appears 20 seconds into the video and is visible for two seconds. The video was first featured on Saturday Night Live as a SNL Digital Short in January 2011. The video stars are Samberg, Schaffer and Taccone and features Nicki Minaj; John Waters makes a cameo. (YouTube)
The song "Semicolon," featuring Solange, includes the line, "I'm that motherfucking monster; Cookie."
Connections
See also
External links
Community content is available under
CC-BY-SA
unless otherwise noted.