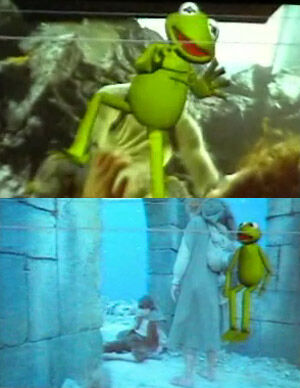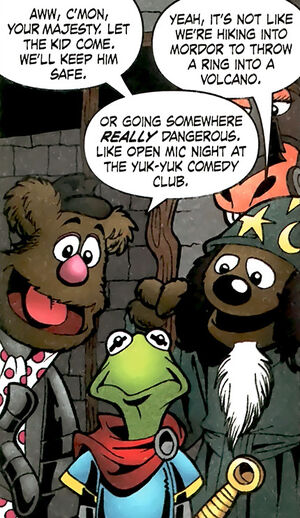 The Lord of the Rings is a fantasy novel published in three parts by J.R.R. Tolkien between 1954 and 1955. It tells the story of a magic ring forged in evil to command the inhabitants of a fantasy land called Middle Earth, and the journey of those who would stand against it.
According to biographer Brian Jay Jones, in the early 1970s, Jim Henson had "briefly flirted with the idea of adapting" the Lord of the Rings book series, but ultimately dropped the concept as he considered the narrative "too big to handle" in only one film.[1]
References
A sketch known as "Monster Eats Machine" performed on The Ed Sullivan Show was written with a fair amount of nonsense technical speak. As such, several jokes and references were tossed into the dialogue. Lewis Carroll's mome raths are mentioned along with the phrase "Gandalf pentameter," a reference to the wizard Gandalf in Tolkien's The Lord of the Rings.
A Word of the Day segment with Ian McKellen and Cookie Monster on the word "resist" has McKellen trying to better explain the word to Cookie Monster by pulling out the One Ring and describing it as "your precious" and that if he could control himself and not go near it, that would be "resisting". (YouTube)
Mentions
Weta Digital provided CGI characters for Peter Jackson's film version of the trilogy. During production of the second film, digital stand-ins were required for the all-CGI character Gollum who would interact with live actors. For some scenes, Kermit the Frog was used in Gollum's place as a joke by the animators. Footage of Kermit as Gollum was shown during the 2003 Game Developers Conference.
Connections
Sources
See also
Community content is available under
CC-BY-SA
unless otherwise noted.