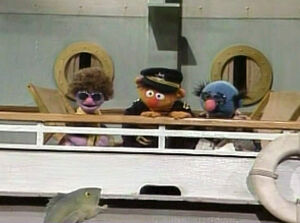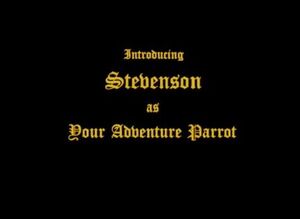 The Love Boat was a lightly comic romantic anthology series (with laugh track) which ran on ABC from 1977 until 1986. The hour long series, set on a cruise ship, was generally divided into three individually titled stories per episode. As the title implied, the majority of the plots involved shipboard romance. The passenger manifest was filled by an array of celebrity guests, usually a mixture of older film and TV legends and current names, many of whom returned time and again. The regular ship's crew (led by Captain Stubing) bridged the storylines and were occasionally allowed a one-shot romance of their own.
References
The series was spoofed in a Sesame Street insert, with Ernie as Captain Ernest. The good captain expresses his love for the boat itself, and Amanda (a female lounger), a grouchy gentleman, and eventually everyone on the entire ship join in. It featured a parody of the Love Boat theme (composed and sung by Joe Raposo[1]). (First: Episode 1958)
The opening credits of Love Boat introduced the regulars as "Your Yeoman Purser," "Your Ship's Doctor," etc. The 1996 video game Muppet Treasure Island spoofed this, referring to Stevenson as "Your Adventure Parrot."
In Muppets Party Cruise, one of Gonzo's stock phrases used during the "Long Cruise" game has him asking where Isaac is (referring to Isaac Washington, the ship bartender).
In the Elmo's World episode "Hats," the Hat Channel tells viewers that coming up next is "Love Boater."
Connections
The Love Boat often drew from the same celebrity pool as The Muppet Show and other Henson productions, and also shared a few crew members. Many of the guests made return voyages.
Recurring cast/crew
Guest stars
Sources
Community content is available under
CC-BY-SA
unless otherwise noted.