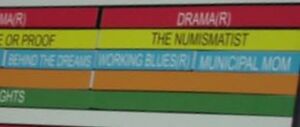 The Mentalist is a television series which ran on CBS from 2008 until 2015. It centers on Patrick Jane, who formerly posed as a psychic, but became a consultant for a team in the California Bureau of Investigation following the murder of his wife and daughter by a serial killer.
References
In The Muppets, the CBS portion of the TV schedule in the CDE offices spoofs the show as The Numismatist, in the same Thursday night timeslot. A numismatist is a coin collector.
Muppet Mentions
In an episode of the program's second season, "Red Bulls" (11/14/2009), a member of another team refers to Wayne Rigsby (one of Jane's co-workers) as "Bert." Talking about it with his partner, Cho Kimball, Kimball reveals that he already knew that they were being referred to jointly as "Bert and Ernie." Rigsby asks if this bothers Kimball, but he says it doesn't because "Ernie's the clever, handsome one."
In the episode "Rose-Colored Glasses" (01/14/2010) from season 2, the team investigates an incident inside a high school that happened 20 years earlier. During a conversation between LJ and Phil (at their joint high school reunion), LJ asks Phil if anyone still calls him "Frog Man." Phil answers "Pretty much everyone calls me Phil, except for my son who calls me dad." LJ replies, "You fathered a kid? Go, Frog Man! Wait - does he play the french horn too? Because if he does, then you could call him Frog Boy, or, Kermit!"
Connections