PERFORMER
various
DEBUT
2011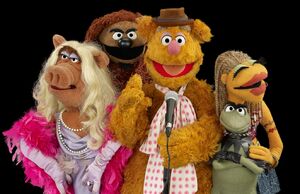 The Moopets is a Muppet tribute band headlined at the Pechoolo Casino by "original Muppets cast member" Fozzie Bear seen in The Muppets. The group features thug doppelgangers of famous Muppet characters representing Miss Piggy, Kermit the Frog, Rowlf the Dog, Janice, and Animal. The most notable member is Miss Poogy, who temporarily becomes a member of The Muppets. When Fozzie leaves the group, he is replaced by a Moopet bear.
The Moopets are seen performing a variation of "Rainbow Connection" at a casino in Reno and as villains later in the film, assisting Tex Richman in his plan to defeat the Muppets. However, after Richman gives the theater and name back to the Muppets, The Moopets are seen approaching him demanding money.
The only Moopets that have speaking roles are Miss Poogy and the Fozzie Moopet. Although the Moopet version of Janice can briefly be heard during the film's epilogue.
T-shirts of "The Moopets" were given away as production gifts.
Members
The credits list the characters by the proper name they are spoofing followed by "Moopet". The actual names shown on screen on their dressing room signs and lobby card (as well as in The Muppets: The Movie Junior Novel) are as follows:
Trivia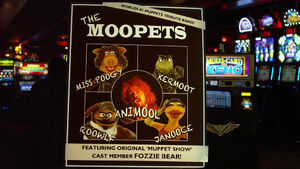 See also
Community content is available under
CC-BY-SA
unless otherwise noted.