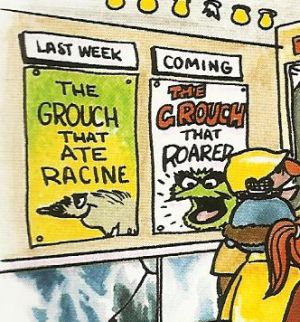 The Mouse That Roared is a 1959 comedy film starring Peter Sellers in three roles, based on the novel by Leonard Wibberly about the tiny Duchy of Grand Fenwick and its plan to save its economy by declaring war on the United States of America, losing, and benefiting from foreign aid and reparations. By sheer accident (and kidnapping a scientist with a valuable new bomb), the country actually wins the war, causing new complications.
A sequel film followed, The Mouse on the Moon (1963), also based on a Wibberly novel, with most of the same characters but an almost entirely different cast.
References
In the 1976 book How to Be a Grouch, posters at a Grouch movie theater include one for The Grouch That Roared. In this case, rather than a metaphor for the underdog succeeding, the title appears to be meant literally.
Connections
Community content is available under
CC-BY-SA
unless otherwise noted.