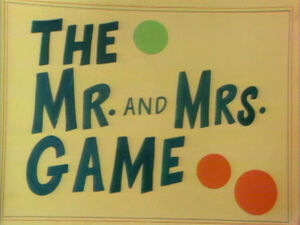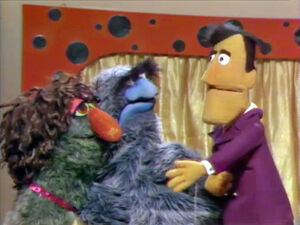 The Mr. and Mrs. Game was a two-part game show segment from Season 1 on Sesame Street which was based on The Newlywed Game and hosted by Guy Smiley. (First: Episode 0072) The object of the game was to match your partner's answers to three questions for a prize. The guests on the show were Ralph and Trudy Monster (portrayed by Beautiful Day Monster and Scudge).
During the first part, Ralph Monster was placed in an isolation booth while Guy asked Trudy Monster what Mr. Monster's favorite color is (green), his favorite food (cookies), and his favorite sport (scaring people).
During part two, Mr. Monster successfully replied to the same questions with the same answers. For their prize, Guy offered two choices: an all-expenses paid trip to Hawaii, with a new house, a new car, and ten thousand dollars in cash, or a cookie. After consulting his wife, Ralph chooses the cookie.
Impact
This segment has been cited by Jim Henson: The Works and an issue of School Library Journal as the origin of the character of Cookie Monster.
"Cookie Monster, according to (Jon) Stone, was born of necessity. "Jerry Juhl (the chief writer) had written a sketch about a quiz show, but it had no ending in the studio; at the end of the contest the master of ceremonies said, 'You have your choice of $10,000, a new house, a three-week vacation in Hawaii, or a cookie.' The character starts thinking and can't make up his mind. He says to his wife, 'You'd like the vacation.' She says, 'Well, yeah, but you know how you like cookies.' He screams, 'Cookie,' and the whole place goes crazy. That puppet was actually different from Cookie Monster, but we liked the idea so much we took another puppet out of Jim's trunk and made him Cookie Monster."[1]"
Cast
Notes
Mr. & Mrs. was also the name of a long-running game show in the United Kingdom, first airing in 1964, and its basic format nearly matches that of this parody (three questions about the spouse's everyday habits while the other sits in a soundproof booth).
Sources
↑ Emmens, Carol A. Jim Henson and the People Behind the Muppet Mania. School Library Journal. September 1984, Vol. 31 Issue 1, page 29.