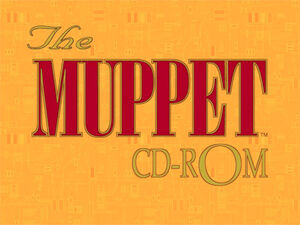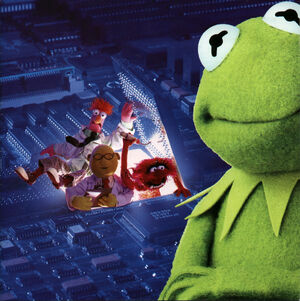 The Muppet CD-ROM: Muppets Inside is a PC computer game produced by Starwave in 1996. At the start of the game, Bunsen Honeydew accidentally digitizes the Muppets and traps them inside the player's computer, along with bits and pieces of the games they were working on. Only Rizzo and Statler and Waldorf remain outside. Kermit the Frog and Fozzie Bear travel around the Bitmap on a Databus to save their friends. The player helps Kermit and Fozzie clear blocked passages on the map by playing the Muppets' mini-games, as well as collecting various Muppet Show clips and Muppet props.
The game uses a mix of full motion video (FMV) and digitized sprites for the Muppets.
Mini-games
Notes
The title is a play on Intel's advertising slogan, "Intel Inside," meaning that one could find an Intel processor inside a computer marked with its sticker.
The box describes Clifford as "the newest Muppet."
A bonus "Muppetizer'" feature provided custom cursors, sounds and wallpaper.
The game came with a 6x6 inch, 30-page booklet with Henson history, character profiles, game instructions and credits.
Cast
Muppet Performers: Frank Oz, Steve Whitmire, Dave Goelz, Jerry Nelson, Kevin Clash, Bill Barretta
Performers (Archive Material): Jim Henson, Richard Hunt, Brian Meehl, Kathryn Mullen
Muppet Characters (new material): Kermit the Frog, Fozzie Bear, Miss Piggy, Gonzo, Animal, Rizzo the Rat, Statler and Waldorf, Dr. Bunsen Honeydew, Beaker, Sam the Eagle, the Swedish Chef, Lew Zealand, Clifford, Crazy Harry, The Newsman, Robin the Frog, Beauregard, Old Joe, Undertaker, Pirate, Whatnots
Credits
External links
Community content is available under
CC-BY-SA
unless otherwise noted.