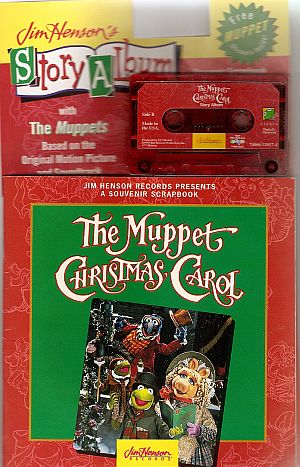 A "Jim Henson's Story Album" adaptation of The Muppet Christmas Carol was released by BMG Kidz and Jim Henson Records in December 1993. The audio adaptation, narrated by Gonzo and Rizzo the Rat, retold the film's story, incorporating the songs "Scrooge," "It Feels Like Christmas," and background score, and occasional sound bites from the movie. The accompanying book is a 24-page "souvenir scrapbook," consisting of photos and minimal text, rather than a literal transcription of the cassette.
The set also included two sheets of Muppet Christmas Carol-themed stickers.
The some of the audio tracks for "It Feels Like Christmas," performed by the main Muppet cast, were reused from the Muppets' performance in Holiday Greetings from the Ed Sullivan Show (although replacing Robin's part with Gonzo and Rizzo, adding a backing choir, and adjusting the overall mix and pacing).
Cast
Credits