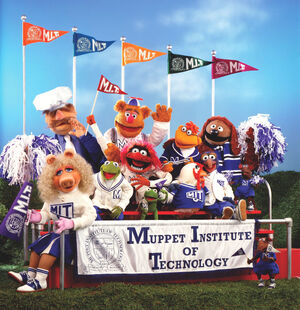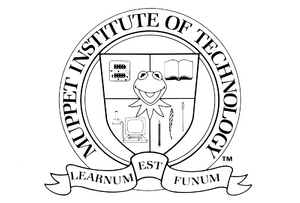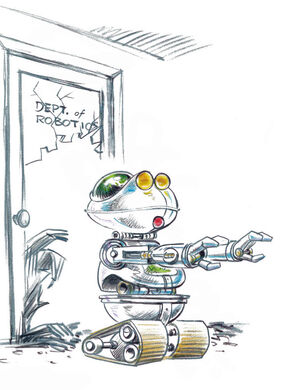 In 1986, writer Douglas Adams was involved as a consultant on a proposed one-hour Muppet TV special about computer literacy, The Muppet Institute of Technology. Adams flew out to New York City to meet for discussions with Jim Henson and twenty other consultants, including Jon Stone, Joseph Bailey, Mark Saltzman, and Adams' friend Christopher Cerf.[1][2] The special would have aired on CBS as part of a distribution deal that included The Muppets: A Celebration of 30 Years,[3] but the project was never completed.
According to the Jim Henson Company archivist:
"Collaborating with Digital Productions (the computer animation people), Chris Cerf, Jon Stone, Joe Bailey, Mark Salzman and Douglas Adams, Jim's goal was to raise awareness about the potential for personal computer use and dispel fears about their complexity. In a one-hour television special, the familiar Muppets would (according to the pitch material), "spark the public's interest in computing," in an entertaining fashion, highlighting all sorts of hardware and software being used in special effects, digital animation, and robotics. Viewers would get a tour of the fictional institute – a series of computer-generated rooms manipulated by the dean, Dr. Bunsen Honeydew, and stumble on various characters taking advantage of computers' capabilities. Fozzie, for example, would be hard at work in the "Department of Artificial Stupidity," proving that computers are only as funny as the bears that program them. Hinting at what would come in The Jim Henson Hour, viewers, "...might even see Jim Henson himself using an input device called a 'Waldo' to manipulate a digitally-controlled puppet."[4]"
The Muppet Institute of Technology would also have included a computer generated Kermit the Frog head, created by Digital Productions.[5] The Kermit head would appear briefly during a montage in the Jim Henson Hour episode "Secrets of the Muppets."
The name had been used the year before for the book and computer game sets The Great Gonzo in WordRider and Kermit's Electronic StoryMaker.

Gallery
Sources
Community content is available under
CC-BY-SA
unless otherwise noted.