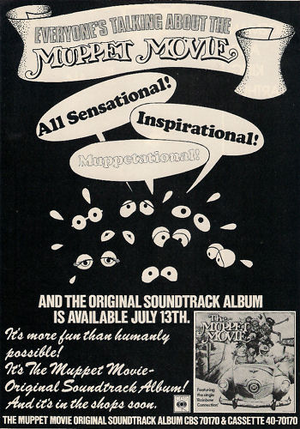 The Muppet Movie: Original Soundtrack Recording features the songs from the film, written by Paul Williams and Kenny Ascher. This album reached #32 on Billboard's Top LPs and Tapes chart in 1979, and was certified Gold by the RIAA.
The album won a Grammy Award for Best Recording for Children. It was also nominated for Best Album of Original Score Written for a Motion Picture or Television Special, but lost to Superman. The film's score was nominated for an Academy Award in 1980 in the Best Music, Original Song Score category. It lost to All That Jazz. "Rainbow Connection" was also nominated in the Best Music, Original Song category. It lost to "It Goes Like It Goes" from the film Norma Rae.
The soundtrack was issued on CD for the first time in 1993, and it was reissued again on August 13, 2013, coinciding with the movie's Blu-ray release.[1][2] This new edition contains liner notes by Paul Williams. A matching LP edition, which is almost an exact replica of the 1979 release, was released for the annual Record Store Day event, on April 19, 2014.
While most international releases use the English-language soundtrack, the German album edition was dubbed, and released under the title of Muppet Movie.
Track listing
Side One
Movin' Right Along - Kermit & Fozzie
Never Before, Never Again (Instrumental)
I Hope That Somethin' Better Comes Along - Kermit & Rowlf
Side Two
I Hope That Somethin' Better Comes Along (Instrumental)
America - Fozzie
Animal... Come Back Animal (Instrumental)
Finale: The Magic Store - The Muppets
Credits
Musicians
Guitars: Art Munson, Ernie Corallo, Anthony Berg
Keyboards: Kenny Ascher,

David Garland

, Michael Melvion, Randy Kerber
Drums: Gary Mallaber, James Gordon
Percussion: Mark Stevens, Alan Estes
Bass: Colin Cameron, Reinhold Press
Saxophone: David Garland
Harmonica: Tommy Morgan
Other releases
International releases
See also
Sources