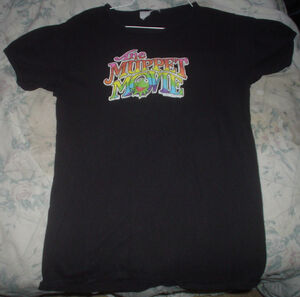 This is a rare shirt, given only to the cast and crew of The Muppet Movie.
The central graphic of the shirt is the Muppet Movie rainbow logo, complete with Kermit's head in the 'O' of "MOVIE." The image is copyrighted Henson Associates, Inc., 1978.
A unique feature of this shirt is its size and cut. Above, it is pictured as a size L, yet on today's scale the shirt would likely be a size M at most. This is due to the different dimensions used for men's shirts in the 70s and 80s (a distinction which is helpful when trying to determine the age of an item like this one when no copyright date is included).
A noticeable trait the shirt carries is that, while the shirt's fabric is a light, breathable, easily-stretched cotton, the heat-transferred image is made of a thicker, heavier vinyl-like material (another characteristic of shirts from the era). The shirt is black and has no back image.
The sterling silver pin was hand-delivered to celebrities with their invite to a Hollywood party in celebration of the release of Jim Henson's first feature film, "The Muppet Movie".