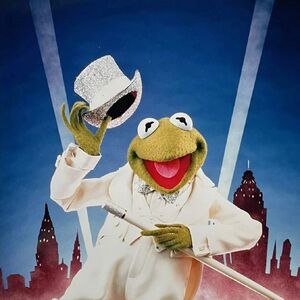 The Muppet Revue was released on VHS in 1985 by Playhouse Video, as part of a series of compilations featuring songs and sketches from The Muppet Show. It also contains new framing material featuring Kermit and Fozzie (with appearances by Animal, Gaffer, one of The Muppaphone, a Prairie Dog, and a lobster; Richard Hunt performs the Muppaphone, lobster, and prairie dog). Among the clips included are appearances by guest stars Harry Belafonte, Rita Moreno, Linda Ronstadt, and Paul Williams.
When it was released in the UK by Virgin Video in 1984, it was re-titled as Kermit and Fozzie's Favourites. It is the same release except for the title. This is the only one in the series that had a title changed. In the Australian market, the cover box art called it Best The Muppet Show Vol. 1 but the film remained the same as The Muppet Revue.

Releases
Picture
Segment
Description

FRAME
Kermit brings Fozzie up to the attic to do some cleaning. Fozzie is adamant, until he sees that it's full of old props from The Muppet Show. Kermit comes across one piece of memorabilia - the sheet music to one of his favorite numbers.

Song
"Happy Feet" with Kermit the Frog
(Episode 209: Madeline Kahn)

FRAME
Fozzie points out that Kermit doesn't dance like that anymore. "Have your flippers flopped?" he jokes. Fozzie then reminds Kermit of the "Hawaiian War Chant" number they did.

Song
"Hawaiian War Chant"
(Episode 320: Sylvester Stallone)

Sketch
The Swedish Chef: Lobsters
(Episode 209: Madeline Kahn)

FRAME
A lobster laughs (in Spanish) at the previous sketch. Kermit points out that despite their many silly pieces, they did nice ones too, such as a song by Linda Ronstadt.

Song
"Blue Bayou" with Linda Ronstadt
(Episode 523: Linda Ronstadt)
Several sections of the song are cut out.

Sketch
Muppet News Flash: Beef falls dramatically
(Episode 512: Melissa Manchester)

FRAME
As the two move some items around, Fozzie wonders where Miss Piggy's motorcycle could be...

Song
"I Get Around" with Miss Piggy and the Pigs
(Episode 415: Anne Murray)

Song
"Mah Na Mah Na"
(Episode 101: Juliet Prowse)

FRAME
Fozzie thought the previous song was weird. Kermit reminds him of all the more down-to-Earth segments they've done, such as Muppet Labs (though Fozzie doesn't share the sentiment).

Sketch
Muppet Labs: Gorilla Detector
(Episode 116: Avery Schreiber)

Sketch
Muppet News Flash: Paper suddenly catches fire
(Episode 205: Judy Collins)

FRAME
Kermit tells Fozzie that he's enjoying their trip down memory lane, as he pretends to drive off with a wagon wheel.

Song
"Memory Lane" with Gonzo
(Episode 219: Peter Sellers)

Song
"Stayin' Alive" with The Pigs
(Episode 313: Helen Reddy)
The opening and bridge are cut.

FRAME
Fozzie discovers a Muppaphone, hiding from Marvin Suggs underneath a top hat. Fozzie vows to protect him, but accidentally hurts him with the hat.

Song
"Lady of Spain" with Marvin Suggs and The Muppaphone
(Episode 105: Rita Moreno)
The second and third "tuning up" sequences are edited together.

FRAME
Fozzie tries to compliment the Muppaphone, but finds a prairie dog underneath the hat instead.

Song
"Blue Skies"
(Episode 322: Roy Rogers & Dale Evans)
The opening is cut.

Sketch
The Swedish Chef: Meatballs
(Episode 102: Connie Stevens)

FRAME
Fozzie finds one of the meatballs from the previous sketch. Kermit believes they must now raise the cultural level of the evening and recalls a song by Paul Williams, as Fozzie eats the meatball.

Song
"Sad Song" with Paul Williams
(Episode 108: Paul Williams)

FRAME
For a change of pace, Fozzie introduces Bobby Benson and his Baby Band.

Song
"Pennsylvania 6-5000"
(Episode 319: Elke Sommer)

FRAME
As Fozzie wanders around with an antique helmet, Kermit sets up the next clip.

Song
"Hound Dog" with Geri and The Atrics
(Episode 404: Dyan Cannon)
The beginning and second verse are trimmed.

Sketch
Muppet News Flash: Mallard-itis
(Episode 215: Lou Rawls)

Song
"Alabamy Bound" with the Penguins
(Episode 321: Roger Miller)

FRAME
Fozzie believes the helmet he's found is one of Gonzo's old crash helmets. Kermit believes it might have been from his motorcycle act, though given the feathers, Fozzie guesses it came from his chickens instead.




Episode fragments
Gonzo's motorcycle act (parts 1 and 2)
(Episode 315: Lesley Ann Warren)

Song
"Moonlight Sonata" with Rowlf
(Episode 217: Julie Andrews)

FRAME
Kermit briefly explains the show's foray into wildlife and nature, as Fozzie plays with a large magnet behind him.

Song
"For What It's Worth"
(Episode 221: Bob Hope)

FRAME
As the previous clip illustrates, Kermit and the show are very concerned about animals. On the other hand, Sam Eagle is concerned about much more...

Sketch
Sam the Eagle talks about nudity
(Episode 206: Nancy Walker)

Sketch
Pigs in Space: Weight Problems
(Episode 420: Alan Arkin)

Sketch
The Swedish Chef: Chicken in the Basket
(Episode 311: Raquel Welch)

FRAME
Fozzie has come across one of Harry Belefonte's drums. He recalls asking him about finding ideas for songs...

Song
"Turn the World Around" with Harry Belafonte
(Episode 314: Harry Belafonte)

FRAME
As Fozzie dances and sings to the song, Kermit shows him another discovery - a copy of Invincibility Made Easy. He reminds Fozzie of the time he and others became superheroes on the show...

Episode fragments

Sketch
Muppet News Flash: Exploding news reporters
(Episode 209: Madeline Kahn)
In the episode it originated in, The Newsman's line "Here is a Muppet News Flash" was heard before the sketch began. As a result, on this video the line is dubbed in at the beginning.

Sketch
Bear on Patrol: Assaulting an Officer
(Episode 321: Roger Miller)
The ending, with Fozzie sneezing and becomming a chicken, is edited. The closing "Bear on Patrol" music plays sooner as the clip ends.

FRAME
Kermit reflects on how utterly hectic running the show would be, citing a particularly frazzling example.

Episode fragments

FRAME
Fozzie found the song very classy. Kermit notes they often tried to do classy stuff, the key word being "tried."

Song
"Fever" with Rita Moreno
(Episode 105: Rita Moreno)

FRAME
After Kermit remarks that the "Fever" number was almost a classy number, "before Animal made a mess of things", Animal comes into the just-cleaned-up attic to literally make a big mess while the credits roll. After the credits, the Statler and Waldorf tag from episode 101 is shown.