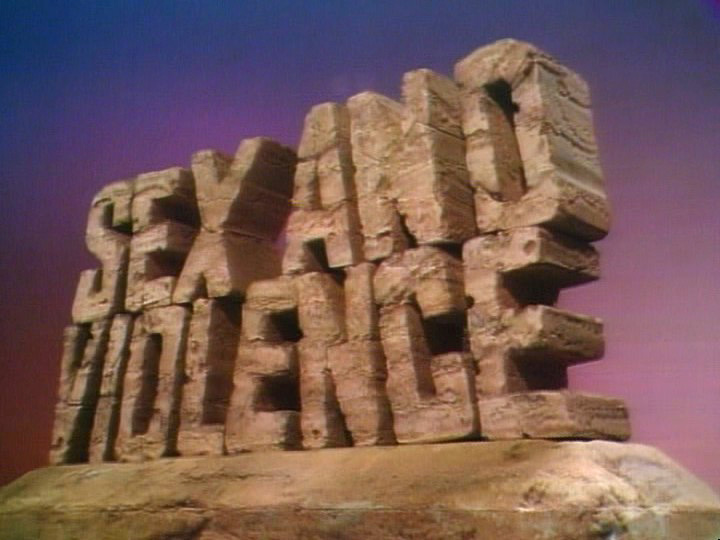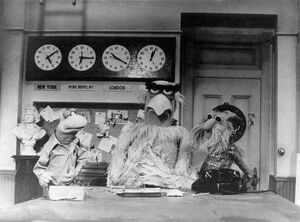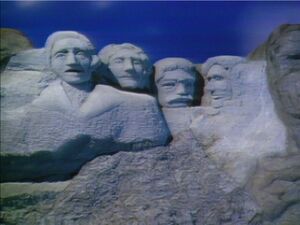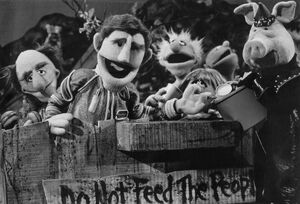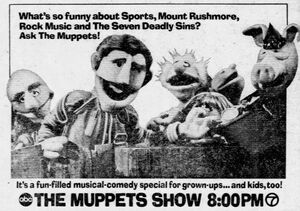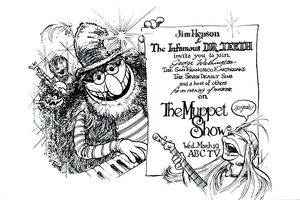 The Muppet Show: Sex and Violence aired on ABC on March 19, 1975, and was shot on December 10-16, 1974.[2] It was one of the two pilots produced for The Muppet Show. The other pilot, The Muppets Valentine Show, aired in 1974.
In this half-hour variety special, the Muppets parody the proliferation of sex and violence on television.
Nigel, Sam the Eagle, and hippie guitarist Floyd prepare for a Pageant based on the Seven Deadly Sins, with Muppets representing the Sins -- Envy, Anger, Gluttony, Vanity, Lust, Avarice and Sloth.
The original working title for the special was The Muppet Nonsense Show.[3]
Sketches (in order of appearance)
Video releases
The Muppet Show: Sex and Violence was released on DVD in 2005, as an extra feature on the Muppet Show: Season One box set. On the box and on the DVD menus, it is referred to as The Muppet Show Pilot.
Promotion
A postcard was produced and sent to press and friends to announce the air date of the special. The text of the postcard reads "Jim Henson and The Infamous Dr. Teeth invite you to join George Washington, The San Francisco Earthquake, The Seven Deadly Sins and a host of others for an evening of nonsense on The Muppet Show, Wed. March 19, ABC TV." In a word balloon, Janice says "Oh Yeah!"[1]
Credits
Cast
Nigel, Sam the Eagle, Floyd Pepper, Crazy Harry, Brewster, Animal, Mount Rushmore, Thudge, The San Francisco Earthquake, The Swedish Chef, Avarice, Janice, Dr. Teeth, Zoot, Statler and Waldorf, Kermit the Frog, Harvey, Clyde, Doris, Shirley, Mel, Duke, Envy, Pencils, Ruler, Heaps, Stalks, Bert, Vanity, Gluttony, Leafy Green Vegetables, Gene Shalit Muppet, Whatnots, Hudson, Miss Piggy, Dr. Nauga, Pig, Hoggie Marsh, Lust, Blond Woman, Rowlf the Dog, George the Janitor, Sloth
Mildred Huxtetter, Zelda Rose, Gonzo, Lothar, Rufus the Dog, Frogs, Catgut, Jim Henson Muppet, Frank Oz Muppet, Jerry Nelson Muppet, Male Koozebanian Creature, Female Koozebanian Creature, Miss Kitty, Beautiful Day Monster, Baskerville the Hound, Scudge, Frackles, Droop, Gorgon Heap, Flower-Eating Monster, Mahna Mahna, Miss Mousey, Anger, Harrison
Performers
Sources
↑ Jim Henson's Red Book entry, page scanned here
↑ Jim Henson: The Biography by Brian Jay Jones, page 210.
External links
Community content is available under
CC-BY-SA
unless otherwise noted.