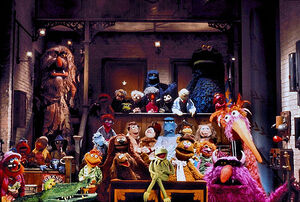 The Muppet Show album features songs from the first season of the show. It also contains backstage moments with Kermit, Miss Piggy and Fozzie, as well as heckling by Statler and Waldorf, all recorded especially for this album. Some of the songs are actual soundtracks from the show, while others were re-recorded for the album.
The album reached #153 on Billboard's Top LPs and Tapes chart, and also won a Grammy Award for Best Recording for Children.
The album was a number one hit in the United Kingdom, knocking The Beatles Live at the Hollywood Bowl off the #1 spot.
The LP cover features many of the show's cast.
While most international releases feature English-language recordings, there were also several dubbed versions, taken from the shows' soundtracks:
French (released in France)-See The Muppet Show (French album).
German (released in Germany)-See The Muppet Show (German album).
Portuguese (released in Brazil)-See Muppet Show.
Track listing
Side One
Side Two
Note
The Players
Album Credits
Executive Producer: Jim Henson
Producer: Jack Burns
Director: Peter Harris
Writers: Jack Burns, Jerry Juhl, Marc London, Jim Henson
Musical Associate: Derek Scott
Orchestra Conducted by: Jack Parnell
Musical Consultant: Larry Grossman
Audio: Roger Knight, Ted Scott
Executive Producer, Henson Associates: David Lazer
This album is produced by Jim Henson, with the help of Peter Harris. Studio Producer: Jed Kearse. Re-mix Engineer: Larry Bartlet. Album Design: Michael Frith. Poster Designs: Miguel Sanchez. © Henson Associates, Inc. 1956, 1976, 1977.
Other releases
International releases
See also
Community content is available under
CC-BY-SA
unless otherwise noted.