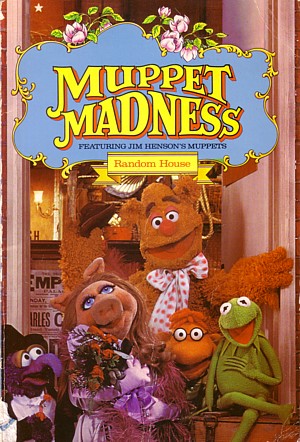 The Muppet Show Annual (1979) is the third of eight Annuals produced in the UK.
The third Annual contains 60 pages of photographs, comics and games based on the third season of The Muppet Show. One of the comics in the book is Holiday Haunt.
It was released in the US in softcover as Muppet Madness.
Contents
Introduction by Kermit the Frog with edits by Sam the Eagle
Comic — The Muppet Spectacular: Kermirella
Test Your Skill: spot the differences in an illustration of the Muppets
Connect the Dots: Miss Piggy
Fozzie's Jokes
Dr. Bunsen's Test Tube Teasers: simple experiments you can try at home
Muppet Limericks
Gardening Hints with Animal
Swedish Chef's Menu
Pigs in Space photo with text crawl
Comic — The Muppets: Holiday Haunt
The Haunted Theatre Game: dice board game
"I Say!": assorted jokes
Two-page illustrated Electric Mayhem spread
Muppets Musicmaze
Beauregard's Brain Twisters: assorted puzzles
Cut-out Scooter paper puppet
Muppetville: coloring page
Kermit's Sunken Treasure Hunt: dice board game
Comic — Disco Frog: or Saturday Night Grease
Letters from Miss Piggy
Photo collage of Miss Piggy
Poem: Esmeralda the Hen and Swedish Chef
Poem: Sam the Eagle
Puzzle solutions
Photo: Statler and Waldorf with Mean Mama
Christmas photo spread
Gallery
See also