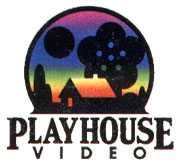 A listing of compilation videos featuring clips from The Muppet Show.
Playhouse Videos
This first collection of compilations was released by Playhouse Video under the "Jim Henson's Muppet Video" label. Unlike later compilations, these videos feature clips with guest stars as well as original linking material. While four of the videos were hosted by Kermit the Frog and Fozzie Bear in the attic, the others had different hosts and settings, and most of the videos were themed around a subject.
The front covers for each video could open, revealing a fact and showing pictures of the guest stars. While the opening was not included, most of the videos began with an instrumental version of the theme, while the fifth season version of the closing theme usually played during the credits. A few videos, however, had different variations of the theme play instead. The Kermit and Piggy Story opened and closed with a piano rendition of the theme, Children's Songs and Stories opened and closed with a music box rendition of the theme, Rock Music with the Muppets opened with an instrumental rendition of "Tenderly", Country Music with the Muppets didn't include any versions of the theme (instead starting with the first clip and having audio from the last number play during the credits), and Rowlf's Rhapsodies with the Muppets opened with a piano rendition of the theme and ended with the seasons 3 and 4 version of the theme. Copies released in Spain have the credits listed in a different font, in addition to showing a few credits at a time as opposed to them all rolling up.
It's The Muppets
A collection of two compilation videos released by Jim Henson Video in 1993. Unlike the previous compilation series, this one does not include any original linking footage or clips with guest stars. The opening theme is primarily a montage of clips from The Muppet Show while the third season version of the theme plays (with a few clips from the opening, including the shot of Rowlf the Dog and Zoot from the third season opening), and the original closing (including the rarely-seen pan-out from the first episode) is used, ending with a shot of Zoot from "Sax and Violence" (which would also be used as the closing Zoot shot in reruns on Nickelodeon).
In the UK, both videos contained more clips than in the US releases.
The Very Best of The Muppet Show
Community content is available under
CC-BY-SA
unless otherwise noted.