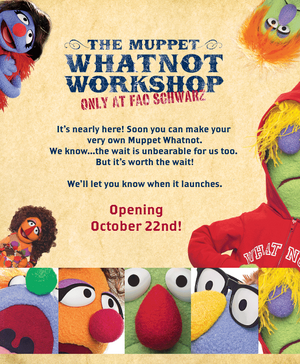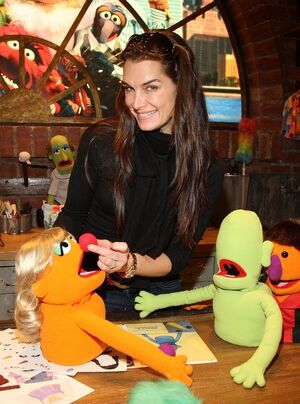 The Muppet Whatnot Workshop is an outlet at FAO Schwarz which allows customers to design their own Muppet Whatnot from a series of bodies, hairstyles, eyes, noses, and costumes. The online store at FAO.com opened on October 22, 2008, with the in-store Muppet Whatnot Workshop opening at FAO Schwarz in New York City a week later.
The website features a video explanation of Whatnots narrated by Kermit the Frog and Miss Piggy. Customers are able to choose from three body types, 12 eyes, 12 noses, 13 hairstyles, and 14 costumes (including The Statue of Liberty and a baseball uniform resembling that of the New York Yankees). Muppet Whatnots can be designed either online or in-store, or through a kit which can be purchased from the FAO Schwarz catalog or website.
The in-store experience features a video guide to creating your Whatnot hosted by Dr. Bunsen Honeydew and Beaker displayed on flat-panel TVs around the boutique. Customers are able to choose from the same body parts and accessories as the online retailer The in-store area is decorated with Muppet pictures and fixtures - including lights that resemble a pair of Whatnot eyes and a nose.
In May 2009 Toy retailer Toys "R" Us, Inc., the largest chain in the United States, acquired FAO Schwarz. Toys "R" Us announced plans to continue operating FAO Schwarz's retail stores in New York and Las Vegas under the same name, along with their websites. After the acquisition, The Muppet Whatnot Workshop online experience and the online store had been put offline, while a new e-store was developed. The In-store experience remained available throughout the online store's hiatus.[1]
During the online relaunch planning phase Lylle Breier announced updates to the Muppet Whatnot Workshop at D23 in September 2009. These will include new parts such as beards, mustaches, as well as monster eyes, noses, teeth, and fur. Further, it is planned to expand the workshop to new sites in the Disney parks.
As of the last week of October 2009, an updated version of the store is back online, but features less options to choose from (3 sets of eyes, 3 noses, 3 hairstyles, and 6 costumes were retired). New content is slowly being added.
At this stage, online orders can only be sent to addresses in the United States.
As of 2010, the Whatnot outfits alone can be purchased through the FAO website.[2]
FAO Schwarz flagship store, New York
Catalog and online store
See also
Sources
External links