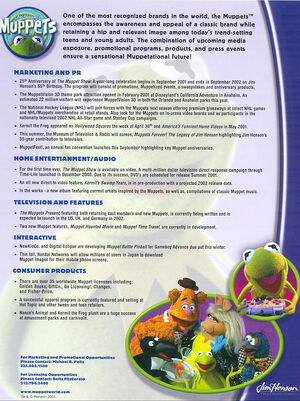 The Muppets' Haunted House (aka "The Muppets' Haunted Hotel" and "Muppet Haunted Movie") had been mentioned in several press kits released by The Jim Henson Company during the 1990s, spending that time in development as a potential feature film.
As early as 1996, Brian Henson mentioned in a panel discussion that ideas for a Muppet horror/monster movie were being talked about at the company.[1] By 1998, a script was written by Dan Milano, now titled "The Muppets' Haunted Hotel."[2]
Some press reports cited the film was slated for a Fall 2000 release, but a 2001 press junket meant to highlight company projects, still mentioned the film to be in development as "Muppet Haunted Movie."
Documents associated with the 2004 sale of the Muppets to Disney included a list of Muppet-related scripts and treatments that the Jim Henson Company had developed; among the assets listed as being in "current and active development" was a script titled "Muppet Haunted House" written by Kirk Thatcher and Jim Lewis.[3] The 2004 sale documents also included the transfer of the domain MuppetHauntedHotel.com to Disney, which was initially purchased by Henson in October 1998.[4]
The concept was eventually adapted for the video game Muppet Monster Adventure.[5]
See also
Sources